February is usually an uneventful month for stargazing but this year it starts off strong with the comet of the hour's closest approach to Earth, warming up our nights with its greenish glow in the sky. February also offers the last chance to get a glimpse of Jupiter and its moons before the gas giant follows Saturn below the horizon. 
Book your visit this February to see your favourite night sky object. We offer a guided Observatory tour and night sky observation via traditional and smart telescopes, like Vespera and Stellina. Al Sadeem Astronomy is the only distributor of these smart telescopes here in the Middle East. You can place an order or inquiry here.
Check out the sky events for February 2023 in the United Arab Emirates (UAE). All dates and times are in UAE Local Time (UTC+4).
February 1 – Comet C/2022 E3 (ZTF) at its closest approach to Earth
Here's a once-in-a-lifetime event you shouldn't miss. On February 1 (and 2), Comet C/2022 E3 (ZTF) will swing by close to our planet at a distance of 4.2 million kilometres, which means it's going to be brighter and more visible to us here on Earth. 
The comet will become visible around 7.05 P.M., and can be found just above the northern horizon at 35°. By 10.15 P.M., it will reach its highest point in the UAE sky at 45°.
If you missed it, do not worry, as the comet will still linger in the sky throughout early February until it becomes visible to observers in the southern horizon.
This ball of ice comes from the Oort cloud, a dusty region that lies far beyond Pluto, and according to NASA's Jet Propulsion Laboratory (NASA JPL) the comet has an orbital period of 50,000 years. This means the last time it went past our area was during the last glacial period or the "Ice Age," when Neanderthals and the first homo sapiens still lived together.
Comet C/2022 E3 (ZTF) has been under the radar of astronomers since 2022, when the Zwicky Transient Facility caught the comet on its wide-field survey camera. It was spotted while inside the orbit of Jupiter, and initially thought of as an asteroid.
Comet C/2022 E3 (ZTF) captured from Al Sadeem Observatory. January 2023.
February 19 – Time to observe Bode's Galaxy (M81) 
The Messier object 81 (M81) commonly known as Bode's Galaxy will be well placed and will be its highest point in the night sky on February 19, offering a good view of a galaxy that's 12 million light-years away from Earth. While it's considered as one of the brightest galaxies that is similar to our Milky Way, M81 is quite faint with a magnitude of 6.9. It's best to observe it with powerful equipment like a smart telescope to get more details of this grand cosmic design.
Illustration of Bode's Galaxy rendered by Stellarium.
February 22 – Venus-Moon Conjunction and Appulse
On February 22, the two-day-old Moon and planet Venus will be near each other in the night sky, sharing the same right ascension that is also known as a conjunction. Catch this pairing just right after the sunset until 8:26 P.M. 
The Stellarium-rendered illustration shows the Venus-Moon conjunction on 22nd February.
February 23 – Moon-Jupiter Conjunction
On February 23, the Moon and Jupiter are going to share the same right ascension. A bonus treat is Venus aligning just below the pair, a planet parade that you would not want to miss after sunset above the western horizon.  
Illustration of Moon-Jupiter conjunction as rendered by Stellarium.
February 28 – Moon-Mars Conjunction
The Moon-Mars pairing wraps up the month on February 28, forming another must-see conjunction in the night sky. The pair won't be visible in a telescope's field-of-view, but it's worth the shot looking up and seeing the Waxing Gibbous Moon and a bright red dot that sits close to it.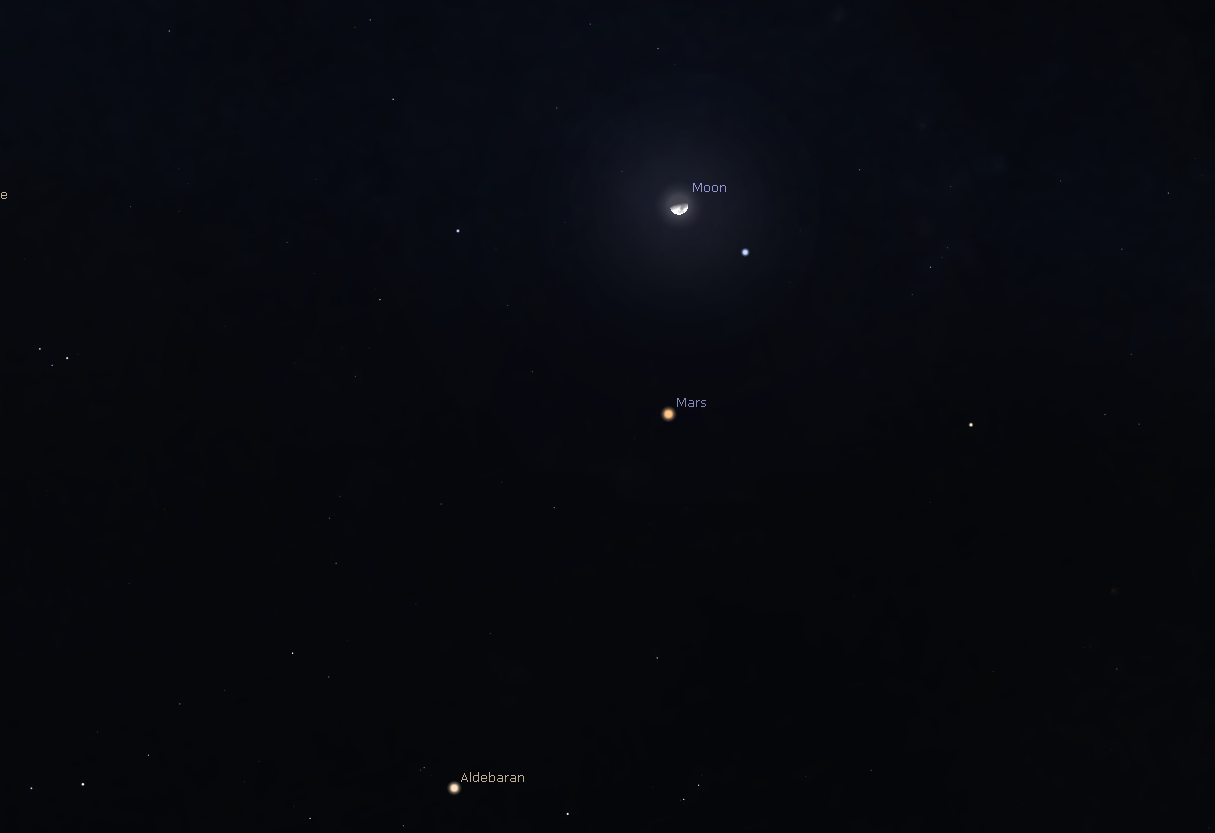 Illustration of Moon-Mars conjunction as rendered by Stellarium.
Sunrise and Sunset Times
Feb 1           07:04 ↑ 18:07 ↓ 
Feb 28        06:46 ↑ 18:24 ↓
Moon Calendar
February 5 – Full Moon
February 13 – Last Quarter
February 20 – New Moon
February 27 – First Quarter
References